ONLY ON 23 NEWS: Fighting the Heroin Addiction: The Modern User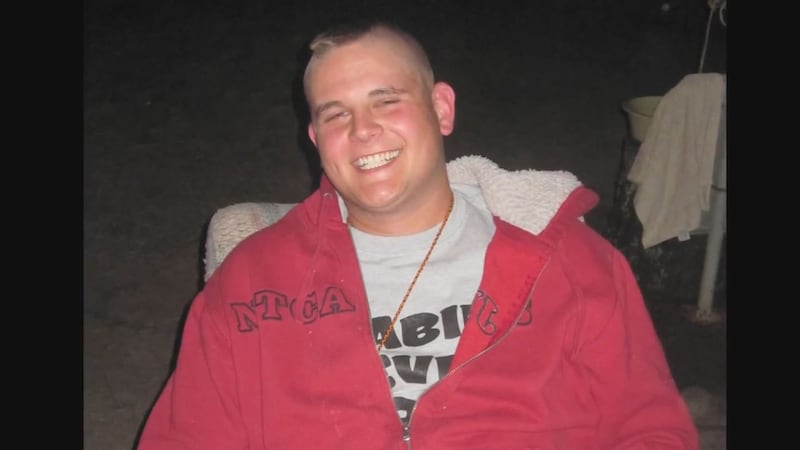 Published: Jul. 5, 2017 at 11:23 PM CDT
ROSCOE, Ill. (WIFR) -- Twenty-five people have died this year in Winnebago County from a heroin overdose, or an overdose where heroin was mixed with other drugs (cocaine and fentanyl), and it's only July.
One Stateline mom lost her son to a heroin overdose last March. She explains what she feels needs to happen to get help for those in area struggling with addiction.
"He was more than his addiction, says Sue Ellen Shultz". "That's how I plan to remember him."
Sue Ellen Shultz, like all parents, remembers the day her son Dane was born.
"The problem child from the beginning because he was C-section and the rest weren't," she says as she laughs.
Remembers watching him grow up.
"He gave great bear hugs…he had a great laugh."
And even remembers the things about her son she wishes she could change.
"I knew Dane drank beer in high school, more in college but I wasn't aware he became interested in pills."
It was that interest in pills that Sue Ellen believes started Dane's three year battle with heroin.
"He might have been given opioids after an injury, tooth extraction, I don't know," says Sue Ellen. "Then it escalates to what's cheaper and more available and that's heroin."
After learning about his addiction, Dane's family sent him to treatment. Sue Ellen says it lasted four to six weeks, costing the family thousands. Insurance didn't cover it. He relapsed in a halfway house.
"Then he was homeless for a while. Then he begged to come home and we let him…He had promised me at one time that he would never use again and I think at the time that he promised that he meant it."
For Sue Ellen, every day with Dane was uncertain. Some days he was kind and fun loving, and some days, she didn't recognize her own child.
"I think the thing that affected him the most was the guilt that he had knowing he wasn't where he wanted to be, knowing that he wasn't' treating his family as well as he would've liked to, taking advantage sometimes and to me that was the drug and not the person.
Over the next three years, Sue Ellen says she prepared herself for the worst every time the phone rang, feeling helpless against her son's addiction as he tried to detox on his own.
"I read somewhere that you start your grieving process when you find out…that's basically true," she says.
It still didn't prepare her for the call she got March 10, 2016. It was her husband calling to say Dane overdosed. He was dead at the age of 30.
"Police cars in the driveway and Coroner. It was real, but it wasn't something that hadn't been played over in my mind lots of time," she says.
Dane Shultz is one of 96 drug overdose deaths last year in Winnebago County according to Coroner Bill Hintz. 45 lives were taken by heroin, 23 by heroin and cocaine and seven by heroin and fentanyl, bringing the total of heroin and heroin related deaths to 75 for 2016.
"Bottom line it's an illness and sometimes, they just can't control it," says Hintz. "We've had teenagers, 18,19 years old to people all the way up to 70 years old, whether you're white, black, Hispanic, male, female, whether you have the best job in the world, whether you have no job, it affects everybody equally."
Sue Ellen knows all too well heroin doesn't discriminate, as her son had a job, a degree and a girlfriend and grew up in the church with what she calls a loving family.
"I think people to look at our family would think we had a problem free, idyllic family… it can happen to anyone," says Sue Ellen.
Now, more than a year later, Sue Ellen says she continues to work through the pain, carrying her son with her in her memories, and his ashes in a necklace she keeps close to her heart. She says a lot needs to change when it comes to treating and understanding an addiction.
"Until people are ready to talk about it, we won't have a face… attitudes need to change. Acceptance, less judgment, more mercy… if people could see it is a medical condition, perhaps we would have more research done…we're still not there," says Shultz.
----
ROCKFORD, Ill. (WIFR) – Rebecca Tyo is one of dozens of Rockford Fire Department's firefighters/paramedics trained in using Narcan.
"We use it quite a bit here in the city of Rockford unfortunately," says Tyo. "I know in my experience I have picked up individuals twice in one day or within a couple shifts, we've seen repeat offenders."
Since 2010, Rockford paramedics have used Narcan to revive 1,511 people. 106 of those so far this year as of May 31. It's typically given in two milligram doses, but some patients may need more depending on the amount of drugs they've taken, and if the drugs have been mixed with anything else.
"It's definitely saved a lot of lives in my experience," says Tyo. "It will definitely continue to."
Narcan works to revive patients who have stopped breathing. Tyo explains the emergency medication works best given through and IV but can administered through the muscle or the nose.
"That's just in case it's difficult to access of IV."
Some of those saved, end up in treatment facilities like Remedies Renewing Lives. Vice-President of Clinical Services Cheryl Piper has worked in chemical dependency in the Rockford area for almost 40 years.
"Heroin had been very popular when I first learned about chemical dependency back in the late '60s, early '70s, and now it's been this turn of events, we have a new population of young people coming along and finding this to be a brand-new drug," says Piper.
This time around, she says her patients are some of the youngest she's ever seen.
"Today's crowd is somewhere between the ages of 18 and 35," says Piper. "Fifty-percent of the population we treat here at Remedies are women and that's an interesting statistic because most times people think of heroin as a male drug."
Right now Piper says Remedies uses two of the most popular treatments on the market to help recovering patients: methadone maintenance, which comes in a liquid form and Suboxone.
"It replaces the heroin so that people don't feel sick, and they don't have the withdrawal, they don't have the craving, those kinds of things that bring people back to using."
Suboxone mixes a mild opioid and Nalaxone which is a less powerful form of Narcan.
"If you take Suboxone and pick up and opioid, you will get sick," says Piper.
Now they're looking at a third option, Vivitrol which works similarly to Suboxone, but doesn't have to be taken as often.
Both Piper and Tyo stress the importance of professional help for those battling addiction, as they say addiction is an illness and those in recovery need medical help.
"It's tough to stop on your own," says Piper. "I've seen people tie themselves up, stay in their house, lock their doors trying to prevent themselves from going outside and going into the world. You can't live like that, you have to reach out for other people."
"Every life that struggles with this addiction, with any addiction just needs help, needs encouragement and hopefully, we are the people that are able to do that."