Local miracle baby survives skull surgery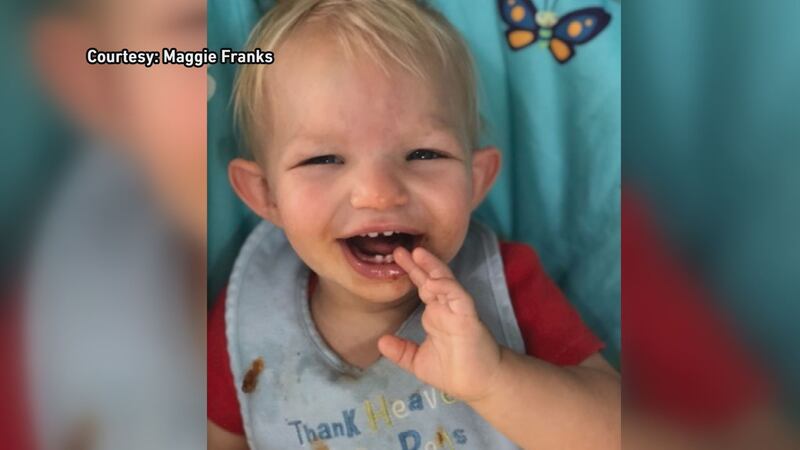 Published: Jan. 4, 2018 at 6:46 PM CST
BYRON, Ill. (WIFR) -- Every year, 1 in about 2,500 babies are diagnosed with a condition called craniosynostosis, which forces them to have skull surgery.
1-year-old Declan Franks was born perfectly fine, but as he grew older, his parents Maggie O'Malley-Franks and Josh Franks noticed a few symptoms that concerned them.
"Before he would almost just be in his own world and not respond even to his name a lot of times," said O'Malley-Franks.
Declan's head wasn't growing as much as it should, he was crankier than most babies and his balance seemed off.
"Some of these things are very subtle and most parents see their child every day and they don't necessarily appreciate some of the changes that I can notice," said Dr. Kendra Hall, M.D., SwedishAmerican Pediatrician.
O'Malley-Franks told Declan's pediatrician, Dr. Hall, her concerns at his nine-month well check-up. After an exam, Declan was diagnosed with metopic craniosynostosis, which is a condition where sutures in an infant's skull prematurely fuse together and turn into a bone. This changes the growth pattern of the skull and squeezes the brain.
"I had a lot of anxiety from the time he was diagnosed to the time he had surgery, just anticipating that surgery," said O'Malley-Franks.
After a search for specialists, Declan received a six-hour surgery at the end of October of this past year in Chicago. After removing the skull bone during surgery, Declan's brain expanded about an inch.
"He recovered really well. Within a week he was off of pain medications, I mean he was just a champ. You wouldn't now know that he had surgery even at all," said O'Malley-Franks.
She says he was less fussy, his balance improved, he was more responsive and even began saying new words.
Dr. Hall says he is truly a miracle baby, "That's why I'm in my line of work, to make a difference and to just see those smiles."
"We just trusted our instincts, so yeah he is my miracle child," said O'Malley-Franks.
Dr. Hall wants to stress the importance of well-baby check-ups so the doctor can check for proper growth and development to make sure every baby is hitting those critical milestones.