UPDATE: Dairy Depot reopens with new owner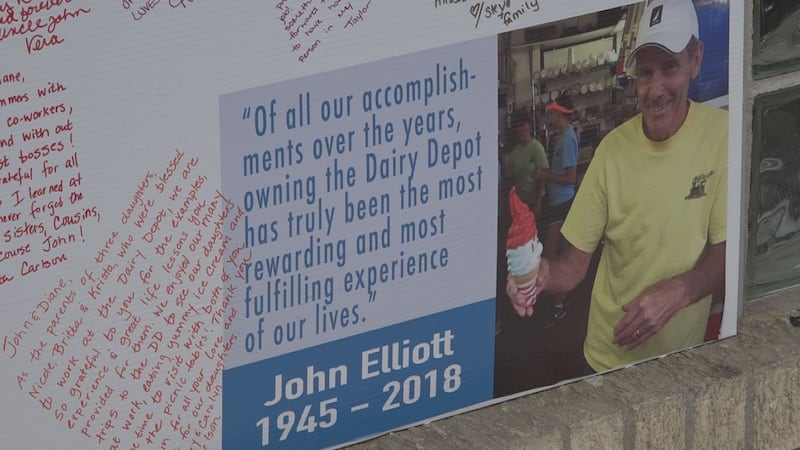 Published: Jun. 15, 2018 at 12:08 PM CDT
Updated: June 29, 2018
LOVES PARK, Ill. (WIFR) -- Dairy Depot is now back open and under new ownership after the previous owner, John Elliot passed away earlier this month.
John and his wife Diane were staples around Loves Park's Dairy Depot for 18 years. He passed away two weeks ago after having a heart attack in May. Now Brittany Artz owns the ice cream shop and says she knows John is smiling down on her and is proud of the way things are running.
"This was my very first job," says Artz. "My grandmother knew John and retired with him and just so happened to say, 'My granddaughter is looking for a job' and that's how I ended up here. To look back at that now is humbling."
----
Updated: June 17, 2018
LOVES PARK, Ill. (WIFR) -- Dairy Depot held a memorial banner signing Sunday in honor of owner John Elliott who passed away on Thursday after a heart attack.
Community members could sign banners and write notes about memories they had with Elliot and his wife Diane after 18 years of service at Dairy Depot. These items will be on display at his visitation and funeral service.
Even though the store is closed right now, Coley's Cooler came out to the event with their ice cream truck to provide frozen treats.
Elliott passed the Dairy Depot's ownership torch off to Brittany Artz, who has worked for him for 12 years. She says he was just like a second dad.
"It's very emotional honestly. I had met with John while he was in the hospital this past Monday and just kind of talked about the plans and what was in the works. We're keeping the memory of him alive and doing this memorial for him. I think not only is it for us girls, it's a sense of community and he impacted so many people's lives," said Artz.
Elliott's visitation will be from 4 p.m. to 7 p.m. Thursday with a funeral service at 10:30 a.m. Friday. Both visitation and service will be at Riverside Community Church at 6816 N. Second Street in Machesney Park.
Artz will be hosting a grand reopening of Dairy Depot on June 29 at 4 p.m.
------
Posted: June 15, 2018
MACHESNEY PARK, Ill. (WIFR) - The Village of Machesney Park says John Elliott, owner of Dairy Depot, has passed away.
The village said in a Facebook post on Friday that John died Thursday afternoon.
Dairy Depot has been sharing updates on John's condition since May after he had a heart attack.
The village says John served on the planning commission as a trustee and was a representative on the Chicago Rockford International Airport Board.