23 NEWS EXCLUSIVE: High Speed Dilemma: A look at the crash that killed Karen Williams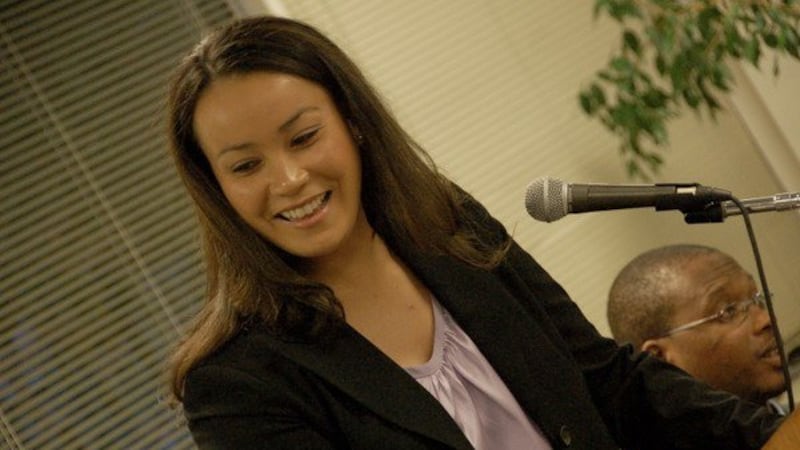 Published: Nov. 17, 2016 at 11:06 PM CST
CHERRY VALLEY (WIFR) -- It takes a split second to change a life. It was a chase with speeds topping more than 115 miles per hour through a busy part of town and in an instant an innocent woman's life was taken.
These are the tense moments before a trip to the mall turns deadly. Police dash-cam video showing a high speed chase and the split second decision that took an innocent woman's life and changed countless others. Community activist Karen Williams was leaving the CherryVale Mall after doing a favor for a friend when her car was t-boned by a speeding car.
"If it would have been just 10 seconds different," Williams' friend, Kristine Frank said, fighting back tears.
The sudden impact spun Williams' car. The front was crushed. She died a week later.
"It's tough, why does it happen? You just don't know. Somebody who is such a shining light in our community, it's tough to process," Mike Winters, who served on the Jefferson High School Alumni Association, said.
"She was fun loving, caring, just very positive, very calm, she made a lot of friends," Frank said.
Two years later it's still hard for Kristine Frank to think back on Karen's tragic death. It's a crash some say never should have happened.
"Just a little bit of knowledge could have saved Karen's life that day. Just a little bit," Attorney Keenan Saulter, who represents the Williams family, said.
"A beloved daughter and a sister is deceased for no good reason," Attorney Curtis Tarver, who also represents the Williams family, added.
The car that hit Williams was filled with suspects from an armed robbery minutes earlier in Belvidere. They were being chased by a Boone County Sheriff's Deputy. Dash camera video shows Deputy Robert Rosenkranz and suspects, racing through busy Cherry Valley roads at 7:30pm at speeds topping 115 miles per hour.
In the seconds after the crash the suspects are seen crawling out of the car and running away. Nearly 60 seconds later an officer goes to check on Karen.
"At some point we've got to be able to say we're not going to chase people through busy streets in a major metropolitan area because it's reckless, it's dangerous to everyone involved," Saulter said.
Less than two months after Karen's death her family filed a civil lawsuit against the suspects Bryant Locke, Ronaldo Fort, and D'Angelo Brooks, and former Boone County Sheriff Duane Wirth, who was in office at the time of the crash.
"His only focus was from a cowboy mentality, I'm going to get them, and as a result of that a 41 year old woman is no longer with us," Saulter said.
Saulter and Tarver say Deputy Rosenkranz has a history of reckless behavior. They say he was involved in four other police chases that year, two of those resulting in crashes.
"What this case offers that most cases don't is a glimpse into two officers in the exact same position that make markedly different decisions," Saulter explained.
A Cherry Valley officer was also involved in the chase at one point, however stopped because of the dangers. You see him arrive on the scene seconds after the crash. Saulter and Tarver argue Deputy Rosenkranz should have done the same.
"If the justification for engaging in a police pursuit is to protect the public you can't be more of a danger of the public by engaging in a police pursuit. That's what we have here," Saulter said.
In court documents attorneys for Wirth argue Deputy Rosenkranz did not act recklessly. They say there is nothing that suggests Deputy Rosenkranz had a record that would make it likely to harm a third person.
When it comes to not ending the chase they say the deputy would have been derelict of duty if he didn't try to stop the very real and imminent threat posed to the public by the suspects, calling Deputy Rosenkranz's actions heroic.
Wirth's attorneys have filed a motion asking a judge to dismiss the case.
Yearbook photos of Karen's high school days at Jefferson bring her friend Mike Winters back to happier memories of a legacy and life many won't forget.
"She wouldn't want to talk about her legacy. That's just who she was, she wouldn't want to talk about it."
Karen's friend Kristine Frank says and even in her death Karen is still teaching her life lessons.
"Any day anything can happen and take every moment that you have," she said.
23 News reached out to the attorney representing former Boone County Sheriff Duane Wirth. He declined our request for an interview; however James Devine gave the following statement: I don't feel it is appropriate to speak about the case due to the pending motion, however I'm confident my client will be exonerated."
As for the criminal cases against the three men in the car they were all charged in Boone County for the armed robbery and in Winnebago County for the crash. Their charges and sentences are as follows:
Bryant Locke: Guilty of Second Degree Murder. Sentenced to 10 years in prison. Case in Boone County for Armed Robbery is pending.
Ronaldo Fort: Guilty of Aggravated Discharge of a Firearm. Sentenced to 10 years in prison. Guilty of Armed Robbery. Sentenced to 33 years in prison.
D'Angelo Brooks: Pleaded guilty to Aggravated Discharge of a Firearm. Sentenced to 6 years in prison. Pleaded guilty to Armed Robbery with a Firearm. Sentenced to 30 years in prison.
The Karen S. Williams Memorial Scholarship Fund was launched in September 2014, shortly after Karen's death. The Jefferson High School Alumni Association needs a total of $10,000 before it can begin giving out scholarships. It's still about $4,000 short. To donate, go to https://donatenow.networkforgood.org/cfnil and enter Karen S. Williams Memorial Scholarship Fund.