Morning Anchor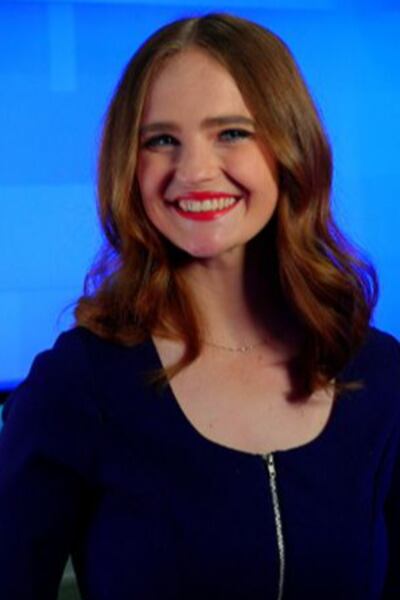 WHERE WERE YOU BORN AND RAISED: I was born in Lawrence, Kansas and raised in Grand Rapids, Michigan. My family also lived in Budapest, Hungary, Prague, Czech Republic and St. Peter, Minnesota when I was growing up.
WHAT COLLEGE DID YOU ATTEND AND WHAT WAS YOUR MAJOR: I went to Xavier University in Cincinnati, Ohio (Go Musketeers!). I majored in French and Digital Innovation, Film and Television (DIFT).
WHY DID YOU GET INTO THE NEWS (OR SPORTS) BUSINESS/BECOME A JOURNALIST: I was first introduced to broadcast journalism in high school, when I was on my school's forensics, or speech and debate, team. I learned to love knowing what was going on in the world. In college, my major focused on both television and film production. I appreciated the combination of learning the technicalities behind news production, while also be trained in creating aesthetically pleasing content.
WHAT IS YOUR FAVORITE THING ABOUT BEING A JOURNALIST: My favorite thing about being a journalist is getting to do something different every day. A bi-product of the job is getting to know community members and experiencing what different places have to offer. I like being able to go out and meet unique people each day.
WHAT IS THE ROLE OF A JOURNALIST AND A TELEVISION STATION IN OUR COMMUNITY: Journalists have a responsibility to not only present pertinent, breaking news to their viewers. They also should highlight people and places that innovate and make the city a better place to live.
WHAT DO YOU LIKE TO DO OUTSIDE OF WORK: I am an amateur photographer and an amateur seamstress. I also love hiking, the outdoors in general and drinking a cup of coffee while reading a good book.
WHO IS THE MOST IMPORTANT PERSON/PEOPLE – OR ANIMAL - IN YOUR LIFE AND WHY: The most important people in my life are my dad and three siblings. Through the difficult times, we've lifted each other up. They make life interesting and fun.
TELL US SOMETHING ABOUT YOURSELF THAT PEOPLE WOULD BE SURPRISED TO KNOW: People would probably be surprised to know that I played little league baseball. I was one of two girls on the team and we were the only girls in the league!
WHO HAS BEEN THE BIGGEST INFLUENCE ON YOUR LIFE AND WHY: My mom had the biggest influence on my life. She passed away from cancer, but she was a ray of light throughout my whole childhood and early adulthood. She was positive when others weren't, but always spoke her mind and stood her ground.
WHAT IS YOUR FAVORITE DRINK: My favorite drink is coffee, and not just because I'm addicted to caffeine. I actually love the taste!
WHAT IS YOUR FAVORITE DINNER ENTREE: My favorite dinner entree is gyros or any sort of Greek food. I could not live without feta cheese.
WHAT IS YOUR FAVORITE DESSERT: My favorite dessert is key lime pie.
WHAT IS YOUR FAVORITE HOLIDAY AND WHY: I love Thanksgiving. Our house fills up with family, and we share good food and play cards. What more could you want?
WHAT IS YOUR FAVORITE SEASON AND WHY: Winter is my favorite season. I love snow, ice skating and having a constant excuse to drink hot chocolate.
WHAT IS YOUR FAVORITE SPORT: My favorite sport is baseball, but I'm always down to watch some Xavier basketball.
NAME THREE OF YOUR FAVORITE MOVIES: Sing Street, Charlie Brown Thanksgiving and Knives Out.
NAME YOUR FAVORITE BOOK/AUTHOR: My favorite author is Fredrik Backman (Beartown, A Man Called Ove, etc.)
WHAT IS THE MOST DARING THING YOU'VE DONE: The most daring thing I've done is gone in a trick plane with an aeronautic pilot and been spun around.
Education
Xavier University