Evening Anchor
Rockford, IL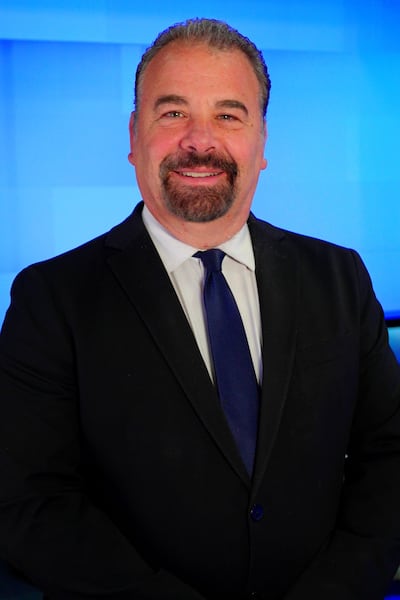 Born in San Gabriel, California, to a former nun and former priest, Mike lived in Park Ridge, Illinois, and Waukesha, Wisconsin, growing up.
It was at the University of Wisconsin-Whitewater that he found his passion for broadcasting and a way to use his love of sports. His first role at WIFR was sports director, and he transitioned to news anchor a few years later.
"I've always been someone who really enjoys sharing stories with those I care about. And I really care about the Rockford community and love the ability to share information and insight on what's important to the Stateline."
He also met his wife, Kirsten (a Hononegah High School alum), at college. They now have four children: Keenan, Kiah, Larson and Braylon. Mike calls them the most important people in his life. "They are the first consideration in every decision I make. They are simply what matter most."
Mike takes his role as a journalist very seriously, saying it is an important job in the community.
"[It is the role of the journalist] to be the presenter of information, not the shaper of viewpoints. We have the ability to ask important questions of decision makers, and we don't take that opportunity lightly. We also are obligated to show how a story, press release or other sourced information impacts the community. It's our job to humanize issues and news of the day to make the community understand why this would be important and impactful to them."
When he's not at work, Mike loves playing and watching sports, playing games and cards, traveling, playing trivia, spending time at his family's Northwoods Wisconsin cabin and following his four kids around the Midwest doing whatever they are passionate about.
BIGGEST INFLUENCE: My mom taught me so many of my best virtues. The biggest being to enjoy every moment to the fullest and take your responsibilities seriously, but never take yourself too seriously.
FAVORITE DRINK: Do Grasshoppers count? Otherwise, a nice ice-cold glass of water. (Boring, I know.)
FAVORITE ENTREE: My special family recipe for beef stroganoff or pizza.
FAVORITE DESSERT: Hot fudge sundae.
FAVORITE HOLIDAY: Thanksgiving. Great food, spending time with family and it just starts the Christmas season. To me, the build-up to Christmas is even better than the day itself.
FAVORITE SEASON: Easily, it's fall. The smells (leaves and cookouts), the sweatshirt weather, the football, my anniversary (Sept. 18), a huge fan of fall foliage. I just like the overall mood I'm in when it's fall.
FAVORITE SPORT: Tough one, because I love them all. To watch: football and college basketball. To play: tennis and basketball. To study: baseball and football.
FAVORITE MOVIES: "Goodwill Hunting," "Pulp Fiction" and "Fletch." In that order.
FAVORITE BOOK/AUTHOR: I am more into non-fiction. Maybe "Hammer of the Gods: The Led Zeppelin Saga."
MOST DARING FEAT: The most recent thing I can think of is singing "O, Canada" with Mark Henderson at a Rockford Ice Hog's game. I'm not what you would call a "strong singer," and I would say it's the first time I've sang in front of a large group of people since 8th grade choir, 35 years ago.
Education
University of Wisconsin-Whitewater