Evening Anchor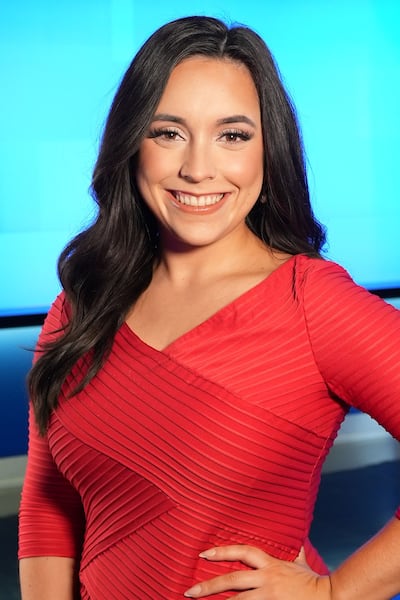 WHERE WERE YOU BORN AND RAISED: Elgin, IL
WHAT COLLEGE DID YOU ATTEND AND WHAT WAS YOUR MAJOR: I started at Columbia College Chicago for two years and then transferred to Illinois State University after meeting NBC 5's Sandra Torres while she was reporting. She told me all about the great program with TV10 and WZND radio at ISU.
WHY DID YOU GET INTO THE NEWS (OR SPORTS) BUSINESS/BECOME A JOURNALIST: I first gained interest in high school when I was in a film and journalism academy. After creating a few news packages and even anchoring, I was hooked. I felt comfortable being on and behind the camera, and realized I wanted to continue telling stories.
WHAT IS YOUR FAVORITE THING ABOUT BEING A JOURNALIST: I love how exciting it is. Everyday is different, and I have the privilege of telling important stories.
WHAT IS THE ROLE OF A JOURNALIST AND A TELEVISION STATION IN OUR COMMUNITY: I think the role of a journalist in our community is to keep city leaders and officials in check and keep the community informed. We do this by talking with the community and sharing their experiences.
WHAT DO YOU LIKE TO DO OUTSIDE OF WORK: I enjoy spending time outside with family and friends. During quarantine, I started painting for fun. I enjoy going out to eat with friends, watching live music, and going to amusement parks. I also love going to my sister's hockey games!
WHO IS THE MOST IMPORTANT PERSON/PEOPLE – OR ANIMAL - IN YOUR LIFE AND WHY: The most important people in my life are definitely my parents. I have three siblings, and they support all of us in what we want to do. They never want us to settle for less than we dream for.
TELL US SOMETHING ABOUT YOURSELF THAT PEOPLE WOULD BE SURPRISED TO KNOW: I grew up singing and acting in Chicago. Every year I have sung with the Chamber Opera of Chicago in their holiday show since I was 9 years old. The year of the shutdown was the first time it didn't happen because of the pandemic.
WHO HAS BEEN THE BIGGEST INFLUENCE ON YOUR LIFE AND WHY: I would say my mom is the biggest influence on my life. She's shown me to live life to the fullest and go for my dreams.
WHAT IS YOUR FAVORITE DRINK: Margarita
WHAT IS YOUR FAVORITE DINNER ENTREE: Manicotti
WHAT IS YOUR FAVORITE DESSERT: Cheesecake
WHAT IS YOUR FAVORITE HOLIDAY AND WHY: My favorite holiday is Christmas. I love Christmas music, spending time with my family, and watching them open the gifts I get for them. I'm also a huge fan of Christmas cookies.
WHAT IS YOUR FAVORITE SEASON AND WHY: Fall! My birthday is in October, so Fall has always been my favorite. I love seeing the trees change, drinking apple cider, Halloween, and everything pumpkin. Not to mention the fall fashion, and bonfires.
WHAT IS YOUR FAVORITE SPORT: Hockey! I'm the only one of my siblings who doesn't play hockey. My two older brothers played, and now coach. My little sister plays. My dad coached after playing for the longest time. I've been watching hockey since before I can remember.
NAME THREE OF YOUR FAVORITE MOVIES: The Notebook, Mean Girls, Les Miserables
WHAT IS THE MOST DARING THING YOU'VE DONE: I walked on the Carrick-a-Rede rope bridge in Ireland when I studied abroad there.
Education
Illinois State University
Affiliations
Illinois News Broadcaster Assocation