120+ local businesses attend 8th Falliday Bazaar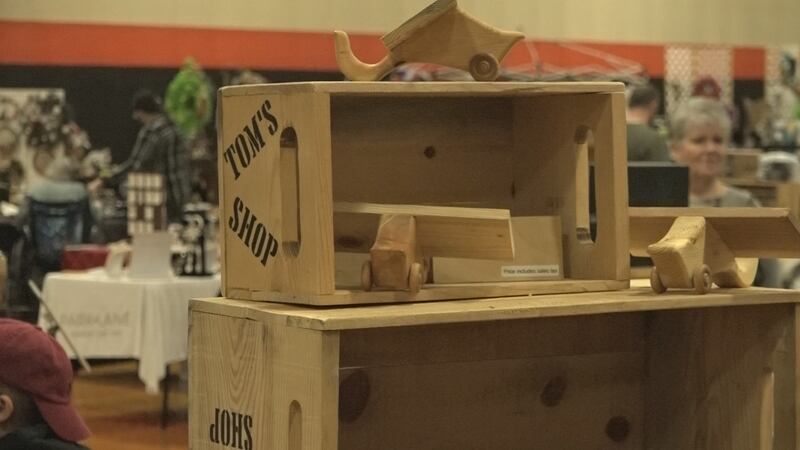 Published: Nov. 19, 2023 at 8:23 PM CST
MACHESNEY PARK, Ill. (WIFR) - The 8th annual Falliday Bazaar at Harlem high school blends the end of Fall and the beginning of the holiday season for community members to shop at local businesses.
Although the event has been running for the better part of the last decade, one shop owner is following a 60-year tradition, demonstrating his craft just in time for the holidays.
Stacy Moore, along with her small business "Stateline Events", started the bazaar eight years ago with 15 small business owners. Now, it hosts more than 120 local businesses.
"You're getting out and supporting that small mom and pop shop, a lot of people are on disability and they use this as a form of supporting their households. As a community, us showing them the support is just a great feeling of giving back," Moore said. "It's just kind of taken a mind of it's own where I'm very impressed and very blessed for the people that are here today."
Tom Gaudreau first brought his small woodworking store, "Tom's Shop", to the Falliday Bazaar three years ago. He says the best way he can be paid is with a kids smile, when they open up one of his toys on Christmas day.
"Being a kid, my dad made some toys for me, because mom and dad didn't have a heck of a lot of money. As time goes on, my kids grew up, I made them toys," Gaudreau said. "I sit back sometimes and think about 'hmm, I wonder how that train, or that plane, or that car hauler will be recieved by that little person.' It just makes me feel good inside to be able to bring my love of toys and kids out to the community."
Not only does Tom craft toys for kids, but also charcuterie and cutting boards, cheese cutters and more for adults to enjoy.
"Stateline Events" next craft show is called "A Very Merry Pop-Up Shop", which will be hosted from 10 a.m. to 3 p.m. on December 2 at Roscoe middle school.
Copyright 2023 WIFR. All rights reserved.