'Joy Ride' memorial event honors South Beloit 4-year-old
Published: Oct. 4, 2023 at 12:04 AM CDT
SOUTH BELOIT, Ill. (WIFR) - Last Sunday marked a year since the passing of Jack Baumann, 4, and in a couple days it will be his birthday when he would have turned 5.
Jack was hit and killed by a car that did not see him as they backed up from their parking spot in 2022. Jack's parents, Brandon and Valerie, keep his legacy alive by hosting a fundraiser in his honor on Oct. 7 at Merkai Salon and Studio on Main Street. "Jack's Joy Ride" is the name of the event because of how joyful, cheerful and supportive he was, according to his parents.
"I know that he, you know, I question myself a lot on if he would be proud of what we are doing. I'm constantly reassured that he would and I think that he would be proud to have his name on this event," Valerie said.
The four hour event will have raffles, food trucks, face painting, music and so much more. The public is invited to the event at This is a map directing attendees to the route of the scavenger hunt.
Valerie and Brandon have already put together a memorial in Jack's name: The Jack Baumann Memorial. The memorial has already raise $10k for pre-k scholarships for kids. All proceeds from Saturday's event will also go to the memorial to help fund the scholarships. Both parents believe pre-k is vital education for a child.
"A lot of Jacks personality is in this event and so part of setting this up, is also an opportunity to still experience him and being with us right. He's not here as an individual but certainly his personality, his spirit in this event," said Brandon.
"Our goal was to fund one scholarship a year and we're certainly on track to surpass that. And we also put that money toward other families who have lost a child," said Valerie.
Below is a Venmo QR code that allows anyone to donate funds to the memorial to help fund pre-k scholarships for area kids.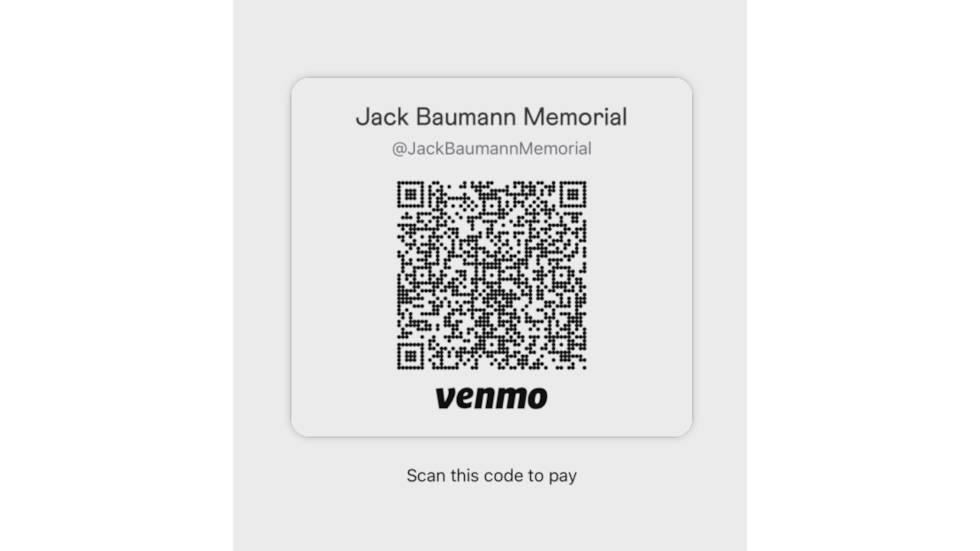 Copyright 2023 WIFR. All rights reserved.