'I think it's all 100% true': Travis Kelce's brother talks Taylor Swift dating rumors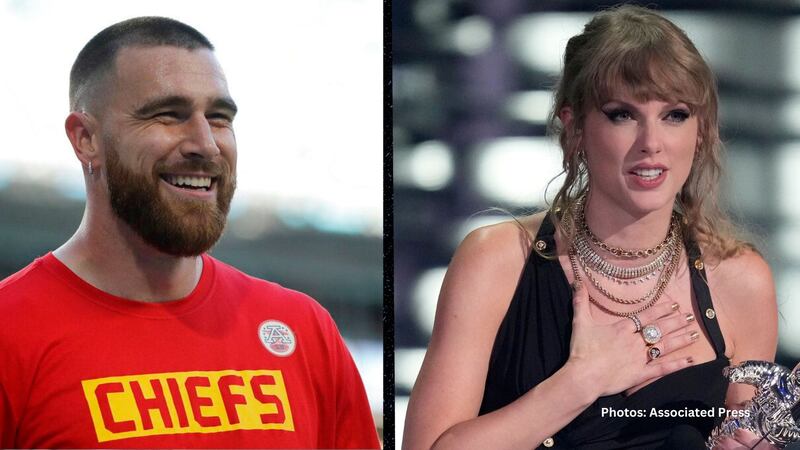 Published: Sep. 20, 2023 at 11:00 AM CDT
(KCTV/Gray News) - Kansas City Chiefs star tight end Travis Kelce and Taylor Swift are no longer "quietly hanging out," according to his brother and fellow NFL player Jason Kelce.
Jason Kelce fueled the relationship rumor during a weekly interview with Philadelphia radio station WIP's Morning Show on Wednesday. His comment comes after former Chiefs tight end Tony Gonzalez asked about it on Amazon Prime's postgame show Thursday.
"Tony kind of blindsided me with that question Thursday night. And I don't know, it's hard to answer because I don't really know a lot about what's happening with Travis' love life," Jason Kelce said. "I try to keep a, you know, his business his business, stay out of that world.
"But having said that, man, I think he's doing great and I think it's all 100% true."
The dating rumors started swirling earlier this month.
Travis Kelce has been asked about dating the pop superstar but has not confirmed or commented publicly on the relationship.
Swifties also claimed the superstar's choice of jewelry is another sign of the budding relationship. Swift reportedly wore an opal pendant during an outing in New York on Sept. 8. The opal is also the birthstone for Libras, which Kelce celebrates on Oct. 5.
A New York content creator known as HIJO took a picture of Kelce outside club Zero Bond in New York on July 19. Swift is known to frequent the members-only club.
Rumors about the two stars began after Kelce said he wanted to give Swift a friendship bracelet with his phone number on it when he attended her Kansas City concert.
Copyright 2023 KCTV via Gray Media Group, Inc. All rights reserved.