'Fosbury Flop' high jumper Dick Fosbury dies at 76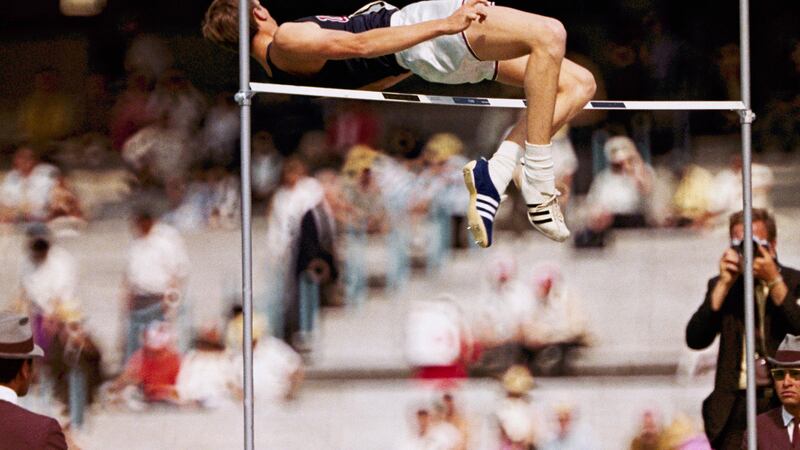 Published: Mar. 14, 2023 at 9:00 AM CDT
(AP) - Dick Fosbury, the lanky leaper who revamped the technical discipline of high jump and won an Olympic gold medal with his "Fosbury Flop," has died. He was 76.
Fosbury died Sunday after a recurrence with lymphoma, according to his publicist, Ray Schulte.
Before Fosbury, many high jumpers cleared their heights by running parallel to the bar, then using a straddle kick to leap over before landing with their faces pointed downward. At the 1968 Mexico City Olympics, Fosbury took off at an angle, leaped backward, bent himself into a "J" shape to catapult his 6-foot-4 frame over the bar, then crashed headfirst into the landing pit.
It was a convention-defying move, and with the world watching, Fosbury cleared 2.24 meters (7 feet, 4 1/4 inches) to win the gold and set an Olympic record. By the next Olympics, 28 of the 40 jumpers were using Fosbury's technique. The Montreal Games in 1976 marked the last Olympics in which a high jumper won a medal using a technique other than the Fosbury Flop.
"The world legend is probably used too often," sprint great Michael Johnson tweeted. "Dick Fosbury was a true LEGEND! He changed an entire event forever with a technique that looked crazy at the time but the result made it the standard."
Over time, Fosbury's move became about more than simply high jumping. It is often used by business leaders and university professors as a study in innovation and willingness to take chances and break the mold.
"It's literally genius," said 2012 Olympic high jump champion Erik Kynard Jr. "And it takes huge courage, obviously. And took huge courage at the time to even consider something so dangerous. Due to the equipment then, it was something that was a little on edge to attempt."
Fosbury started tinkering with a new technique in the early '60s, as a teenager at Medford High School in Oregon. Among his discoveries was a need to move his takeoff point farther back for higher jumps, so he could change the apex of the parabola shape of his jump to clear the bar. Most traditional jumpers of that day planted a foot and took off from the same spot regardless of the height they were attempting.
"I knew I had to change my body position, and that's what started first the revolution, and over the next two years, the evolution," Fosbury said in a 2014 interview with The Corvallis Gazette-Times. "During my junior year, I carried on with this new technique, and each meet I continued to evolve or change, but I was improving. My results were getting better."
The technique was the subject of scorn and ridicule in some corners. The term Fosbury Flop is credited to the Medford Mail-Tribune, which wrote the headline "Fosbury Flops Over the Bar" after one of his high school meets. The reporter wrote that Fosbury looked like a fish flopping in a boat.
Fosbury liked "Fosbury Flop."
"It's poetic. It's alliterative. It's a conflict," he once said.
In a chapter in his book about the Mexico City Games, journalist Richard Hoffer wrote that Fosbury once received a letter from an LA medical director suggesting his technique would lead to "a rash of broken necks."
"For the good of young Americans, you should stop this ridiculous attack on the bar," the letter said.
As a kid, Fosbury threw himself into sports as a way of dealing with the grief after his younger brother, Greg, was killed by a drunken driver while the two boys were riding bikes. Unable to stick with the football or basketball teams, Fosbury tried track but struggled there with the preferred jump of those days — the straddle.
"He just looked at the thing differently, and it really worked," said Eric Hintz of the Smithsonian's Lemelson Center for the Study of Invention and Innovation. "And he had the guts and fortitude to stick with it in the face of criticism."
Fosbury's biographer, Bob Welch, wrote that Fosbury was fine dealing with people ridiculing his style because, to him, it still wasn't as painful as the sorrow he felt for the loss of his brother.
Innovation won out. Decades later, Fosbury's flop remains a hit, and his willingness to take a chance remains a lesson from which almost anyone can learn.
"He was as innovative as Henry Ford was to the Model T," Kynard said. "He's the creator of what we still do to this day."
___
AP Sports Writer Pat Graham contributed to this report.
___
AP sports: https://apnews.com/hub/sports and https://twitter.com/AP_Sports
Copyright 2023 The Associated Press. All rights reserved.