International Women's Day events highlight gaps in gender equality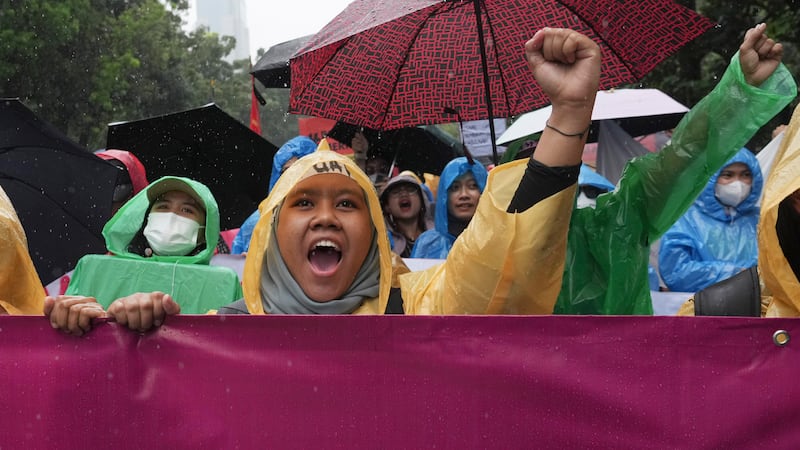 Published: Mar. 8, 2023 at 5:24 AM CST
|
Updated: Mar. 8, 2023 at 6:37 PM CST
MADRID (AP) — From demands for constitutional rights in Islamabad to calls for economic parity in Manila, Paris and Madrid, International Women's Day demonstrations in cities around the world Wednesday highlighted the unfinished work of providing equity for half of the planet's population.
While activists in some places celebrated political and legal advances, observances also pointed to repression in countries such as Afghanistan and Iran, and the large numbers of women and girls who experience sexual assaults and domestic violence globally.
United Nations Secretary-General Antonio Guterres noted this week that women's rights were "abused, threatened and violated" around the world — and gender equality won't be achieved for 300 years given the current pace of change.
Progress won over decades is vanishing because "the patriarchy is fighting back," Guterres said.
Even in countries where women have considerable freedom, there have been recent setbacks. This was the first International Women's Day since the U.S. Supreme Court ended the constitutional right to abortion last year and many states adopted restrictions on abortion.
The United Nations recognized International Women's Day in 1977, but the occasion has its roots in labor movements of the early 20th century. The day is commemorated in different ways and to varying degrees in places around the world.
The United Nations identified Afghanistan as the most repressive country in the world for women and girls since the Taliban takeover in 2021. The U.N. mission said Afghanistan's new rulers were "imposing rules that leave most women and girls effectively trapped in their homes."
They have banned girls' education beyond sixth grade, and barred women from public spaces such as parks and gyms. Women must cover themselves from head to toe, and are also barred from working at national and international nongovernmental organizations.
Afghan women's rights campaigner Zubaida Akbar told the U.N. Security Council that women and girls in the country are facing "the worst crisis for women's rights in the world."
"The Taliban have sought not only to erase women from public life, but to extinguish our basic humanity," said Zubaida, "There is one term that appropriately describes the situation of Afghan woman today: Gender Apartheid."
Women gathered in Pakistan's major cities to march amid tight security. Organizers said the demonstrations were aimed at seeking rights guaranteed by the constitution. Some conservative groups last year threatened to stop similar marches by force.
Women's rights activists in Japan held a small rally to renew their demand for the government to allow married couples to keep using different surnames. Under the 1898 civil code, a couple must adopt "the surname of the husband or wife" at the time of marriage. Surveys show majority support for both men and women keeping their own names.
In the Philippines, hundreds of protesters from various women's groups rallied in Manila for higher wages and decent jobs.
"We are seeing the widest gender pay gap," protest leader Joms Salvador said. "We are seeing an unprecedented increase in the number of women workers who are in informal work without any protection."
The first female leader of Tanzania, President Samia Suluhu Hassan, said during an International Women's Day rally organized by an opposition party that she has brought a new level of political tolerance to the East African nation.
Hassan has been accused of continuing her predecessor John Magufuli's anti-democratic policies, but she lifted a 6-year-old ban on opposition rallies in January.
"The opposition is lucky that it is a woman president in charge because if a misunderstanding occurs, I will stand for peace and make the men settle their egos," the president said.
In Turkey, women converged on a central Istanbul neighborhood to try and demonstrate for their rights — and protest the staggering toll of the deadly quake that hit Turkey and Syria a month ago.
Thousands braved an official ban on the march, and were met by police who fired tear gas and detained several people. Similar incidents marred past years' efforts to hold the march.
Groups held banners saying, "We are angry, we are in mourning," a reference to the more than 46,100 people in Turkey who died in unsafe buildings and the hundreds of thousands left homeless by the Feb. 6 quake.
In Europe, hundreds of ethnic Albanian women in Kosovo's capital protesting domestic violence threw black-and-red smoke bombs at the police headquarters. The protesters, who rallied under the slogan "We march, do not celebrate," accused police, the prosecutor's office and the courts of gender discrimination.
In Russia, where International Women's Day is a national holiday, President Vladimir Putin presented state awards to several women during a Kremlin ceremony. He singled out a military paramedic and a journalist for fulfilling their duties during the war in Ukraine, which the Kremlin insists on calling "a special military operation."
In Spain alone, hundreds of thousands of women — with expectations taking the total over 1 million as in previous years — attended evening demonstrations in Madrid, Barcelona and other cities.
Although Spain has for years produced one of the world's biggest turnouts on March 8, this year's marches are marked by a division within its own left-wing government over a sexual liberty law that has inadvertently led to the reduction of sentences for hundreds of sexual offenders.
Feminists in Spain are also split over a new transgender rights law that took effect last week, and allows anyone 16 and older to change their gender on official documents without medical certification.
Elsewhere in Europe, tens of thousands of people marched in Paris and other French cities, brandishing posters with the messages: "Equal Pay, Now" and "Solidarity with the world's women." The rallies focused on protesting proposed changes to the pension system, which women's groups say are unfair to working mothers.
The protest came hours after President Emmanuel Macron's government presented a new gender equity plan, which would prohibit companies that do not not publish a gender equality index or have a poor rating from getting public contracts. Women's salaries in France are on average 15.8% below men's.
In Ireland, the government announced that it will hold a referendum in November to enshrine gender equality and remove discriminatory language from the country's constitution.
The Irish constitution, which was drawn up in 1937, currently states that the state shall endeavor to "ensure that mothers shall not be obliged by economic necessity to engage in labor to the neglect of their duties in the home."
Brazil's President Luiz Inácio Lula da Silva announced measures seeking to promote and protect women after years of setbacks partially fueled by the rise of far-right forces under predecessor Jair Bolsonaro.
Lula presented a bill that would guarantee equal pay for women and men who perform the same jobs. and committed 372 million reais ($73 million) to build domestic violence shelters.
Despite global protests every year, International Women's Day has not been widely observed in the U.S.
"For most of its history, Women's Day was associated with socialism," said Kristen Ghodsee, a professor of Russian and East European studies at the University of Pennsylvania. "I'm sure you can imagine that was not very popular in the United States."
The day has been a nod to many events where women have stood up for their rights as workers, Ghodsee said. "They're not just trying to get the right to vote — they're trying to promote a progressive cause with the entire working class."
___
Yamaguchi reported from Tokyo. Joseph Wilson in Barcelona and Associated Press writers across the world contributed to this report.
Copyright 2023 The Associated Press. All rights reserved.