Florida Gov. Ron DeSantis speaks to Chicago police officers at Elmhurst event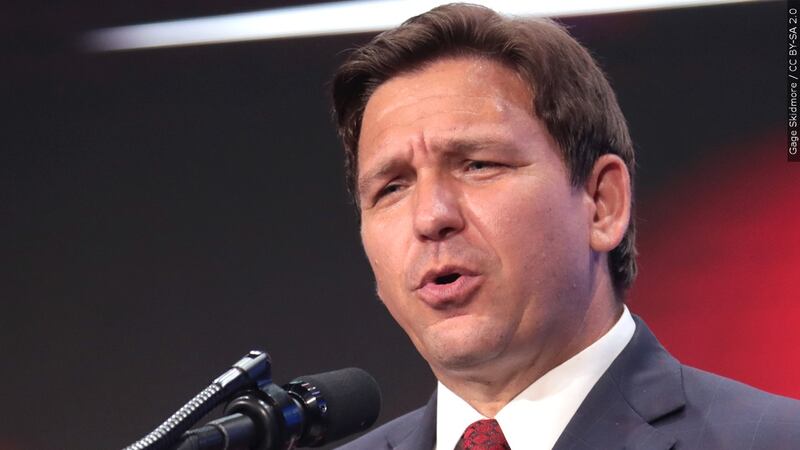 Published: Feb. 20, 2023 at 6:00 PM CST
ELMHURST, Ill. (CBS) - Florida Gov. Ron DeSantis spoke to Chicago police officers Monday afternoon at an invitation-only event for members of the Chicago Fraternal Order of Police in west suburban Elmhurst.
DeSantis told the crowded banquet hall about how Florida supports their police officers and offered incentives for CPD members to become Florida officers.
"We have this recruitment program in place," DeSantis said. "If you have any of our agencies - city, county, state sworn law enforcement - you get a $5,000 signing bonus right off the top."
Illinois state Sen. Darren Bailey (R-Xenia) – who ran unsuccessfully against Gov. JB Pritzker last year – was present for the event. So was DuPage County Sheriff James Mendrick.
DeSantis' visit is causing a stir in Chicago's mayoral race. Candidate Paul Vallas has been endorsed by the Chicago FOP, and said he's disappointed in the union for hosting DeSantis.
"There is simply no place in Chicago for a right-wing extremist like Ron DeSantis, and I am disappointed in FOP leadership for inviting him to speak to officers," Vallas said in a statement. "DeSantis' record of trying to erase the LGBTQ community, banning books on Black history and much more is not in line with my values, the values of our community, or the values of the rank and file police officers who I believe have no interest in getting swept up in culture wars and national Republican Party politics."
Vallas' criticism of DeSantis comes after rival mayoral candidate and U.S. Rep. Jesus "Chuy" Garcia had demanded Vallas denounce the FOP for inviting DeSantis.
"Paul Vallas must condemn the FOP for inviting Ron DeSantis, a dangerous and xenophobic authoritarian to our state. In Florida, Ron DeSantis has banned books, pushed a homophobic and anti-trans agenda, and questioned the integrity of our elections.
Gov. JB Pritzker, who has criticized DeSantis' policies limiting race and sexual orientation curriculum in schools, also has condemned his visit.
"DeSantis's dangerous and hateful agenda has no place in Illinois. Banning books, playing politics with people's lives, and censoring history are antithetical to who we are," Pritzker said.
Meantime, the Illinois FOP released a statement saying they want to hear from a governor they say supports law enforcement.
The Illinois FOP also said Pritzker claims to be about inclusion, but doesn't tolerate viewpoints that aren't his own.
In response to DeSantis' visit, the Elmhurst Pride Collective also hosted an event in response. They hoped to focus on inclusion and support. The group is a non-profit dedicated to safety and inclusion for all.
The Elmhurst Pride Collective teamed with Brewpoint Coffee to offer free drip coffee and baked goods at their cafe on West Park Avenue. People can also write messages of love to LGBTQ youth, and donate to Equality Florida.
Protesters also gathered and held signs outside the banquet hall at York and Vallette Street Monday evening.
Copyright 2023 WIFR. All rights reserved.