Tiger cub rescued in New Mexico now calls Colorado home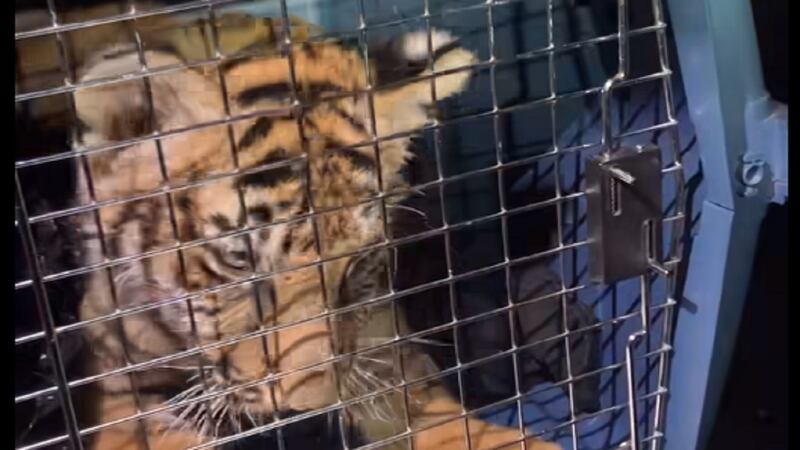 Published: Feb. 20, 2023 at 3:51 PM CST
KEENESBURG, Colo. (KKTV/Gray News) - A tiger cub that was rescued during a criminal investigation in New Mexico will now call Colorado home.
The Bengal tiger was found during a shooting investigation in January in the Albuquerque area. Police were responding to a shots fired call, and when they arrived on the scene they heard more shots coming from a mobile home. A suspect was taken into custody.
"Officers then began to follow a trail of blood leading to a trailer in the area," the Albuquerque Police Department wrote on Facebook on Jan. 10. "As they approached the trailer, the door was unlocked and the trail led inside. Officers made entry to attempt to render [aid] to anyone who may have been wounded, but did not locate anyone and have yet to locate the individual. While inside the trailer, a Bengal Tiger cub was found inside a dog crate."
The tiger was brought to the ABQ BioPark zoo in Albuquerque until a new home could be found. The tiger was named Duke and was moved to The Wild Animal Sanctuary in Colorado on Saturday.
"During his month-long stay at the BioPark, Duke received a healthy diet of meat to support his growth and development," part of a news release from the City of Albuquerque reads. "He gained over five pounds and can no longer fit in the carrier that brought him to the BioPark. The BioPark's specially trained animal care staff spent hours with Duke every day for socialization and training. Duke has perfected some of his tiger manners, which will prepare him to socialize with other tigers at his new home. He also learned how to voluntarily enter his new, much larger crate for the trip to Colorado."
The Wild Animal Sanctuary is in Keenesburg, Colorado, northeast of Denver.
Copyright 2023 KKTV via Gray Media Group, Inc. All rights reserved.