Temperatures recover a bit as February begins
Sunshine to remain prominently featured
Published: Jan. 31, 2023 at 7:10 PM CST
ROCKFORD, Ill. (WIFR) - Much has been made of just how mild our January has been, but it sure went out on a positively frigid note!
Low temperatures Monday reached the teens below zero just about everywhere in the Stateline, with Rockford registering a low of -11°, making Tuesday the coldest morning since January 18, 2022.
As bad as that may have been, it still pales in comparison to the -31° low temperature observed exactly four years ago on today's date. That, to this day, remains Rockford's coldest temperature of all time.
We're heading into sub-zero territory once again Tuesday night, though a southwesterly wind will ensure that we won't be nearly as cold as the night before.
Sunshine is to take us through February's first day without interruption, and with that southwesterly wind still in place, temperatures will stage a nice recovery. Highs are to reach 25°, still considerably shy of the February 1 normal of 30°, but a significant step in the right direction.
Thursday's to see the recovery continue, though there are a few wild cards in play. We'll start the day with sunshine, though we'll cloud over late in the morning toward midday as a cold front drops southeastward into the area. The front's to pass early in the afternoon, with sunshine quickly returning thereafter. Temperatures will top out in the upper 20s, though will fall quickly in the evening behind the front.
What follows is yet another blast of arctic air, sending temperatures below zero once again Thursday night, and keeping highs in the single digits Friday, despite sunshine's expected dominance.
All signs continue to point toward a major warming trend that follows, with 30s returning for the weekend, and 40s a legitimate possibility on Monday.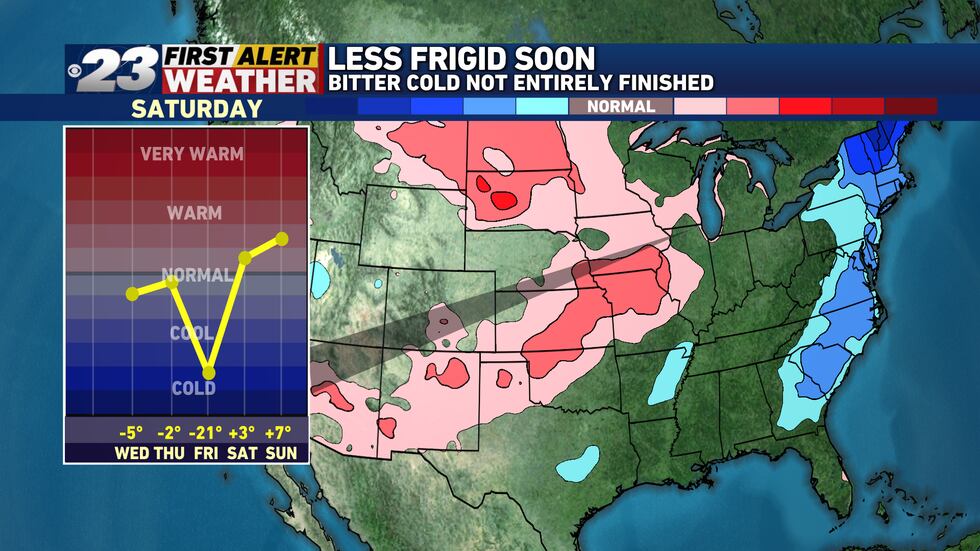 And there's growing evidence the milder air's residence here could be a lengthy one. The latest long range outlook from NOAA's Climate Prediction Center keeps above normal temperatures in place through Valentine's Day.
Copyright 2023 WIFR. All rights reserved.