'Couldn't have come at a better time': Single mom wins top lottery prize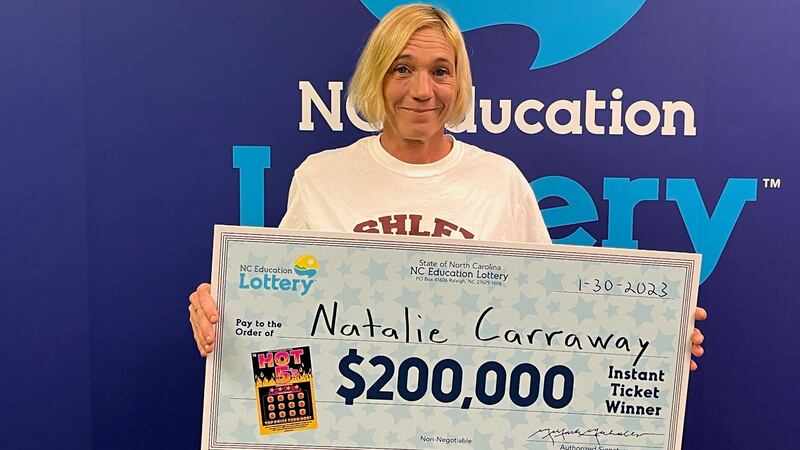 Published: Jan. 31, 2023 at 12:51 PM CST
WILMINGTON, N.C. (WECT/Gray News) – A single mother in North Carolina said winning the lottery came at just the right time.
Natalie Carraway won a $200,000 prize while playing the Hot 5′s scratch-off game.
The 46-year-old mother told anyone who listened that she would win the top prize, and on Friday her prediction came true.
"I kept saying I was going to win the $200,000," she said. "I was adamant about it."
Carraway celebrated the win with her daughter in Circle K, where she bought the winning ticket.
"I just looked at her and started jumping up and down," she said. "And then I just started crying."
Carraway knew the store owner since she lives close by and said he was excited for her to have won.
"He told me he wouldn't have wanted it to happen to anyone else," she told NC Education Lottery officials.
Carraway went to lottery headquarters Monday to claim her prize of $142,501 after required state and federal tax withholdings.
"This couldn't have come at a better time," Carraway said. "It is such a blessing."
Carraway said the winnings will help her pay for necessities for her family.
She explained that, as a single mother, money had been tight recently. She said she lives with her children and hasn't had heat or air conditioning since August. She explained that she was behind on her rent going back 6 months. She is on food stamps but still worries about being able to buy enough food.
She also worried that she couldn't see her daughter, a freshman at Eugene Ashley High School, wrestle in the state playoffs this Friday in Greensboro because of her SUV's oil leak and bad tires. Now, she says she's going to pay her debts, get her heat and car fixed and watch her daughter wrestle in the playoffs.
Copyright 2023 WECT via Gray Media Group, Inc. All rights reserved.