Gov. JB Pritzker signs bill banning assault weapons, high-capacity magazines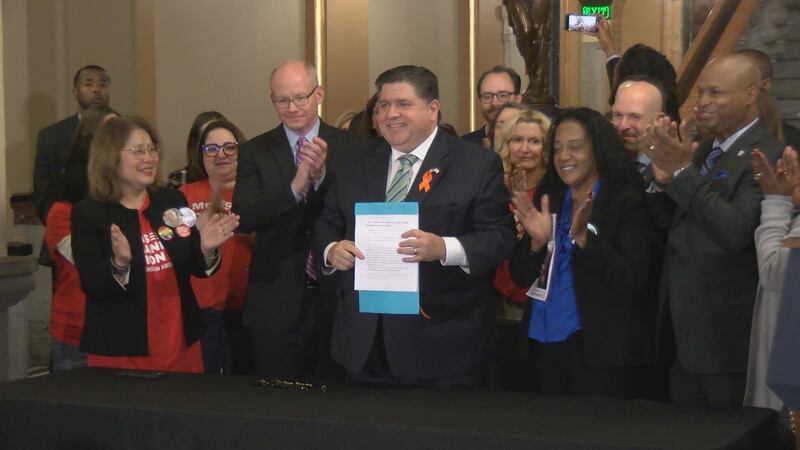 Published: Jan. 10, 2023 at 10:53 PM CST
SPRINGFIELD (WGEM) - Illinois is now the ninth state in the country to ban assault weapons.
Gov. JB Pritzker signed the Protect Illinois Communities Act into law Monday night. It was a whirlwind for Democratic sponsors and advocates who watched intense negotiations to improve the plan over the past week.
The law immediately bans the sale, delivery and purchase of assault-style weapons and switches. It also prohibits the use of high-capacity magazines with more than 10 rounds of ammunition for long guns and more than 15 rounds for handguns. Illinoisans who currently own assault weapons will have to submit an affidavit online with their FOID card number and the make, model, caliber and serial number by Jan. 1, 2024.
"We got this done for all the victims, the spouses, the children, parents, friends and loved ones who are no longer with us and for those who survived mass shootings but were injured," Pritzker said.
The Illinois State Rifle Association quickly stated Tuesday afternoon that the gun lobby group will see Democratic state leaders in court over the new law. Many Republican lawmakers and gun owners argue that the ban will be found unconstitutional. Pritzker said he is prepared for that legal battle, but he argues that the ban is constitutional.
Several Republican lawmakers have already publicly stated that they won't comply with the ban. Those messages were met with tough criticism from the governor after he signed the plan into law.
"You don't get to choose which laws you comply with in the state of Illinois. Let's be clear," Pritzker said. "There are, of course, people who are trying to politically grandstand who want to make a name for themselves by claiming that they will not comply. But the reality is that the State Police is responsible for enforcement, as are all law enforcement all across this state. And they will, in fact, do their job or they won't be in there."
The Protect Illinois Communities also allows people to petition for a one-year firearm restraining order rather than the current 6-month orders. The legislation also requires the Illinois State Police Division of Criminal Investigation to conduct investigations of human trafficking, illegal drug trafficking and illegal firearm trafficking. The Division of Criminal Investigation will provide statewide coordination and strategies for firearm-related intelligence, firearms trafficking interdiction and investigations.
House Bill 5471 also codifies the Illinois State Police online system for reporting stolen firearms and enhances security around gun transfers by requiring them to take place after July 1, 2023, in order to be filed with a federally licensed firearms dealer.
"The trauma of gun violence and even living with the threat of gun violence inevitably takes its toll," said Lt. Governor Juliana Stratton. "The pain is real. The time is now. We stand together here to say enough is enough."
Rep. Bob Morgan (D-Deerfield) spoke about the possibility of an assault weapon ban shortly after he survived the Highland Park mass shooting. The horrific event during the Fourth of July parade left seven of his constituents dead and dozens more injured.
"Obviously our situation, while unique to us, is not unique to the country," Morgan said during an interview on July 7. "And it's something that's continuing to happen on an increasingly common basis. We really have to continue to do more and work harder to stem this."
Morgan stressed that he needed to go on social media with a call to action for all Illinoisans. The Democrat wants people to ask their state lawmakers why an assault weapon or extended magazine clip has more rights than the lives of others. He also told followers to ask their legislators how they will increase mental health funding in the state budget and where that money should come from.
This legislation was signed into law shortly after the six-month anniversary of the Highland Park shooting. Morgan said the anniversary was very difficult for his community as many people are still recovering from the trauma and others continue to deal with struggles from physical wounds following the incident.
"It's very powerful and moving for us to know that we're going to take one step forward to reduce the likelihood that other communities will experience what we did," Morgan said.
Sponsors and advocates hope this law will help save thousands of lives. Protect Illinois Community Chair and President Becky Carroll said this moment is a result of the dedication and leadership of hundreds of survivors, advocates and organizations that shared their voices in the fight to enact one of the strongest pieces of gun safety legislation in the country.
"We are ever grateful to Governor JB Pritzker for his unwavering commitment to this issue and signing the Protect Illinois Communities Act into law, and to Speaker Chris Welch, Senate President Don Harmon, and Representative Bob Morgan for their leadership on making this historic day possible," Carroll said. "We were fortunate to join forces with leading organizations here at home and from across the country, including Brady, Everytown, Giffords, Gun Violence Prevention PAC and others, to take real action on preventing gun violence in our communities and ultimately saving lives."
Copyright 2022 WGEM. All rights reserved.