Air Force cadet dies after suffering medical emergency on way to class, officials say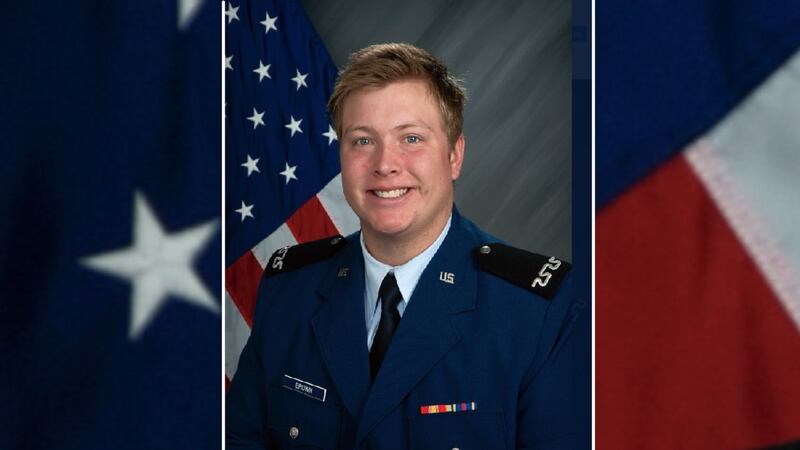 Published: Jan. 10, 2023 at 7:51 PM CST
COLORADO SPRINGS, Colo. (KKTV/Gray News) - An Air Force Academy football player has died while on his way to class.
The Air Force Academy said with heavy hearts it reported the loss of 21-year-old cadet Hunter Brown.
According to officials, Brown died on Monday after suffering a medical emergency while on his way to class.
KKTV reports Brown was listed on the Academy's football roster, stating he was a sophomore from Louisiana.
"Hunter was a standout offensive lineman on the Falcon football team and was well-respected in his squadron," said Lt. Gen. Richard M. Clark, U.S. Air Force academy superintendent. "The entire U.S. Air Force Academy mourns his loss, and our hearts and condolences are with his family, his squadron, and all who were touched by this incredible young man."
Brown was reportedly assigned to Cadet Squadron 16 and was pursuing a major in management. He also had completed back-to-back winning seasons with the Falcon football team.
The 21-year-old graduated from the U.S. Air Force Academy Preparatory School in May 2021.
"Our players, staff, and the entire Academy have been so blessed and fortunate to have Hunter as a part of our lives. He was a pure joy to coach and have as a teammate," said Troy Calhoun, Air Force football head coach. "He was tough, a great worker, and no one unselfishly pulled harder for others than Hunter. We love our great brother, and our thoughts and prayers are with Hunter's incredible soul and his family."
Copyright 2023 KKTV via Gray Media Group, Inc. All rights reserved.