Barnes concedes as Johnson claims Senate win
Published: Nov. 8, 2022 at 4:14 PM CST
|
Updated: Nov. 9, 2022 at 10:45 PM CST
MADISON, Wis. (WMTV) - The race for Wisconsin's U.S. Senate seat ended around noon on Wednesday as the Associated Press became the latest in a string of news agencies to declare a victor and Lt. Gov. Mandela Barnes took to the podium in Milwaukee to concede the election.
"I can honestly say that I fought the good fight. I've run my race," Barnes told supporters. "I kept the faith that you did, and I want to thank you for having faith."
The Democratic candidate later explained he got into the race to protect the American Dream, which he credits with allowing him a chance to vie for the Senate seat in the first place, and to ensure everyone had a fair shot at success.
Barnes' speech came a little more than two hours after incumbent Sen. Ron Johnson claimed victory and asserted his challenger had no route to close the 27,000+ vote gap between them. The Republican senator, who is on his way to a third term, also blasted major media outlets for not having declared him the winner already.
Johnson's statement, which was released around 9:30 a.m., acknowledged there were still outstanding votes but argued those votes were mainly in areas that were friendly to the GOP candidate. According to the statement, by that point, all Democratic strongholds and municipalities had finished tallying their results.
Over the course of the next hour, both NBC News and CNN declared Johnson had won, and other major news outlets followed thereafter. The Associated Press, which provides NBC15 News with the results of the statewide elections, made its call just before noon and moments before Rep. Gwen Moore and Barnes addressed supporters.
Although he acknowledged losing this campaign, Barnes vowed to remain engaged, saying, "this is not the time for us to tune out; it's the time for us to turn up."
Barnes, like many Democrats nationally, tried to make the race about abortion, highlighting Johnson's long support for overturning Roe v. Wade, and arguing that the millionaire Johnson was out of touch with the concerns of the middle class.
Johnson has been a top target for Democrats in swing state Wisconsin. He was first elected in 2010, as part of the tea party wave, and won reelection in 2016.
Johnson is one of former President Donald Trump's biggest backers. He ran this campaign trying to paint Barnes as being weak on crime with a thin resume who will be a rubber stamp for the national Democratic agenda.
The victory not only secures Johnson another six years in Washington, it also keeps a valuable Senate seat in GOP hands as Republicans look to claim a majority in the chamber.
Here's how U.S. Senate races across the nation are impacting the balance of power:
A long election night
Overnight, the Republican Senator spoke to supporters around 1 a.m. Wednesday in Neenah, saying he wouldn't call the race and that he was waiting for all the numbers to come in. However, he said he was very confident in the results.
Meanwhile in Milwaukee, Mandela Barnes' campaign staff members said the party was over around the same time. Barnes did not speak during the watch party and his team said they would provide an update later.
Johnson hosted supporters in Neenah, where he would wait for the election results. Barnes' supporters spent the evening at Turner Hall Ballroom in Milwaukee.
When it comes to the race for Wisconsin's Senate seat - and possibly control of the U.S. Senate - the latest Marquette Law School poll showed Barnes had cut significantly into the deficit he faced last month. Among likely voters, the Lieutenant Governor trailed the two-term Senator by just two points.
Johnson first ran in 2010, defeating incumbent Senator Russ Feingold. Before he ran for Senate, Johnson started the company PACUR in 1979 with the brother of his wife Jane. After his first term, Johnson defeated former Senator Feingold again in 2016.
Sen. Johnson went to the Oshkosh Town Hall Tuesday morning to vote. A spokesperson for the Johnson campaign, Ben Voelkel, said they were feeling confident headed into the evening.
"Senator Johnson's worked his tail off, he's been a great representative for the state of Wisconsin the last six years, he's ready to serve again for six more," Voelkel said.
Doors opened at 6 p.m. for Johnson's watch party and organizers expected a full house of guests.
A member of Johnson's campaign, Ben Voelkel, shared how they got the campaign across the finish line with a 60-stop bus tour, taking the the conversation to voters.
"Talking about the big issues that are facing our state and our country, rising gas prices, high inflation, crime that's causing a lot of people to live in fear, and contrasting that with what he would like to see, which is making sure that families can feel safe in their own communities, making sure they can pay their grocery bills," Voelkel said.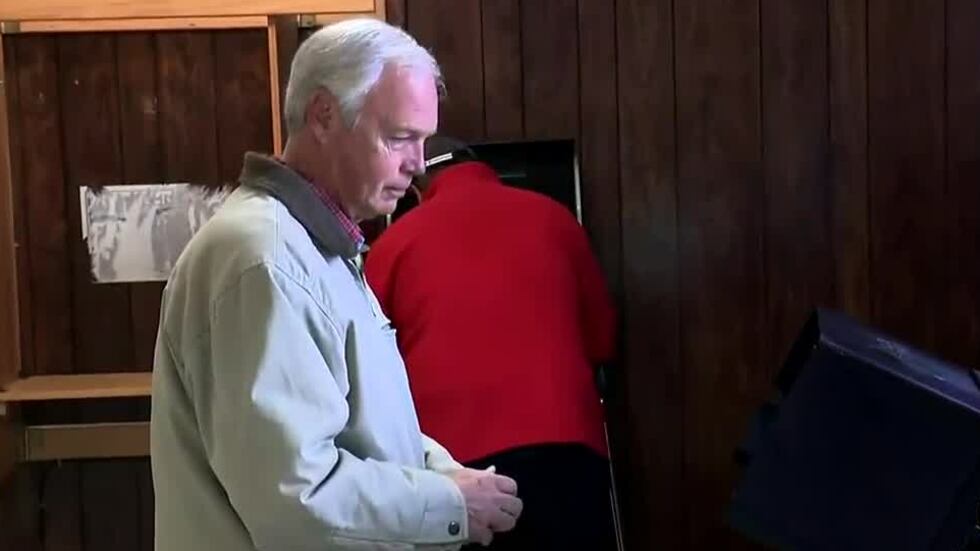 In the race against Democratic challenger Barnes, Johnson made crime a centerpiece of his campaign. In debates and at campaign events, Johnson voiced his concern over the defund the police movement and the impacts of bail reform. Barnes has said he wants to invest in struggling communities to provide jobs, education and other opportunities. Barnes has also said he would support federal funding to help alleviate the police officer shortage in Wisconsin.
Johnson garnered the endorsement of the Wisconsin Fraternal Order of Police by voicing his support for law enforcement. He also hosted several round-table events across the state, with bail reform as a key topic of discussion.
Lt. Gov. Barnes spoke with students at UW-Milwaukee Tuesday morning and encouraged people to get out and vote. He cast his in-person absentee ballot at the Clinton Rose Center in Milwaukee on Oct. 25, during the first day of early voting in Wisconsin.
A Barnes campaign staff member said the team feels really good about the support they have received so far and said the race would come down to voter turnout.
Barnes' Campaign Communications Director Maddy McDaniel said it would take momentum from across the state in order for Barnes to win.
"All across the state and just everywhere we've gone we seen so much excitement, so much energy and so much momentum and with people just ready for some change," McDaniel said.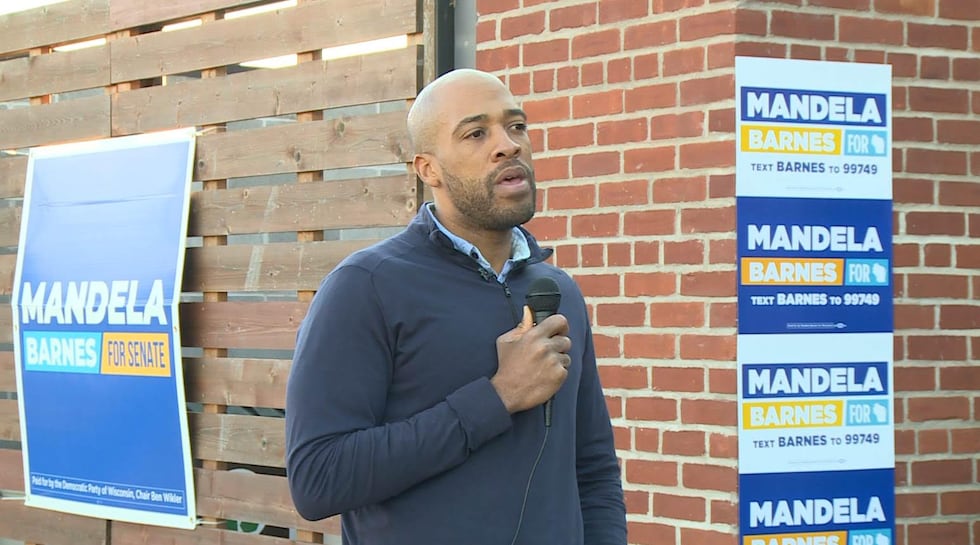 Barnes, who sought to become Wisconsin's first Black senator, attempted to portray Johnson as out of touch with the cares of middle-class voters. A point of emphasis in Barnes' campaign has been his pledge to rebuild the middle class. Barnes claimed he would cut taxes for the middle class.
Barnes was adamant about his support for legalizing abortion in Wisconsin. He had leaned on recent data from a Marquette Law School poll released in September that reported 68% of Wisconsinites believe abortion should be legal in all or most cases. Johnson is a longtime supporter of an abortion ban without exceptions, a position Barnes calls "dangerous and out of touch." Johnson has tried to blunt the issue by saying he supported a state referendum to let voters decide, but he opposed an effort by Democratic Gov. Tony Evers for such a vote.
Barnes was elected in 2018 as Wisconsin's lieutenant governor.
Click here to download the NBC15 News app or our NBC15 First Alert weather app.
Copyright 2022 WMTV. All rights reserved.